What is cord-cutting exactly?
Put down the scissors. You won't actually be cutting anything. "Cutting the cord" means canceling a cable television subscription in favor of getting video over the internet from a streaming service like Netflix or YouTube TV, among others. A related term, "cord shaving" involves moving to a lower tier of cable services to save money.
But, is it right for me?
The short answer is… it's complicated. It depends a lot on what you like to watch. We want to help you discover which combination of devices and services work best for your viewing habits and budget.  That's why we built this guide and host 1-on-1 info sessions at our Cord Cutting Test Lab at our new location in the Ethan Allen Shopping Center (New North End). There you can test out the latest and greatest in streaming devices and services to see if cord cutting is right for you!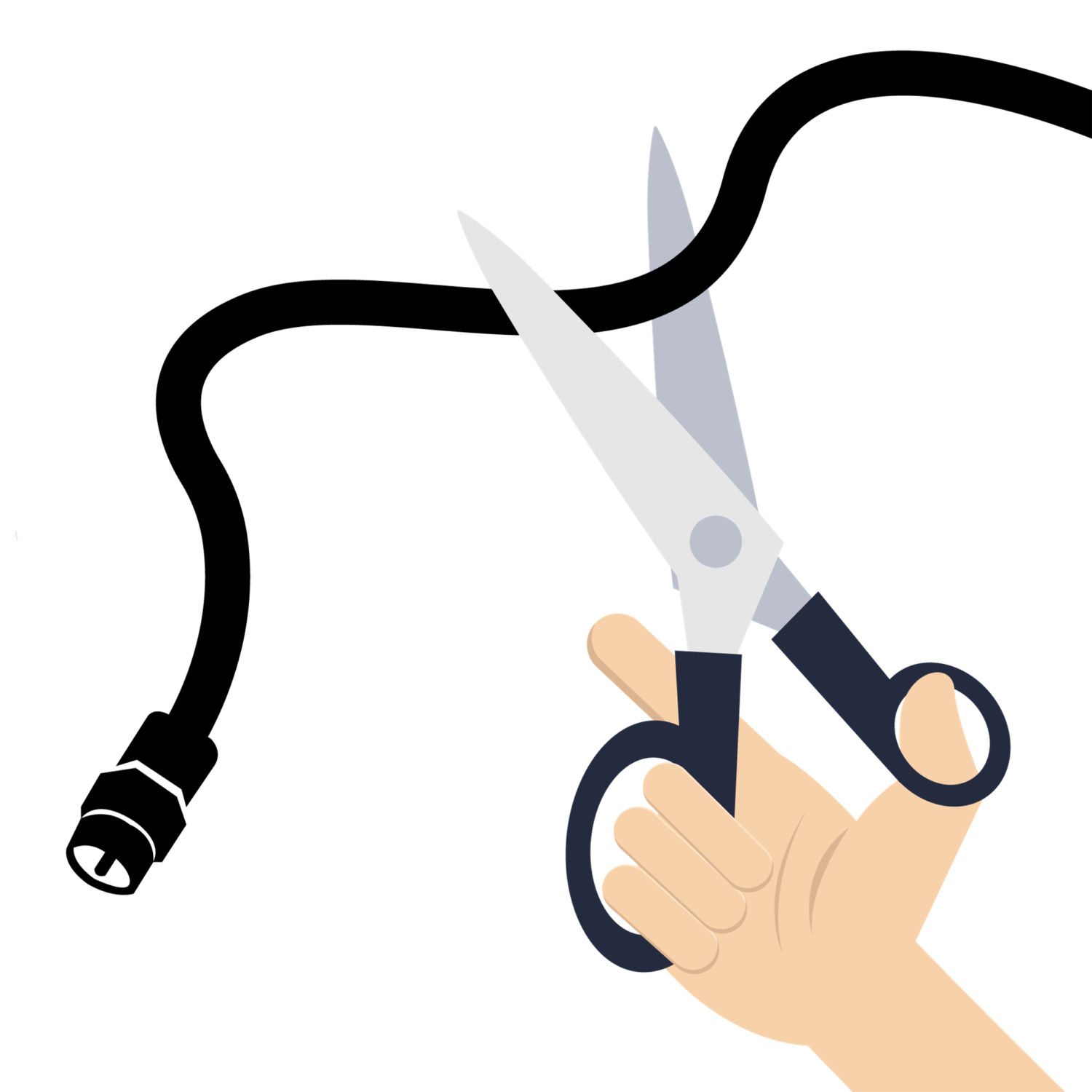 A Few Common Myths About Cord Cutting
Myth
I have to give up live TV.
Fact
You will have live TV, including major broadcast networks, local news and sports.
Myth
I have to give up the DVR.
Fact
Many streaming services now include cloud DVR at no additonal cost.
Myth
I have to give up my favorite shows.
Fact
You can most likely, get all of your favorite shows and pay less to watch them.
TV Antenna
Most networks are still broadcasting over the airwaves in HD for FREE—you just need an HD antenna. However, due to Burlington geography HD antennas can be a challenge. Depending on your location within the city you can receive 0-12 channels including major broadcast networks.
Internet-Connected Streaming
Devices
If streaming services are part of your cord-cutting plan, you will need a way to bring those subscriptions to your screens. In some cases, between gaming consoles and internet-connected smart TVs, you may already have what you need. If not, there a few options to choose from.
Streaming Services and
Apps
The key to effective cord-cuttery is being aware of what apps are available on your device of choice and just how much they're going to cost you. On-Demand services like Netflix, Hulu, and Amazon Prime are the most popular. Recently a wave of Live TV streaming services like YouTube TV and Hulu Live have become serious competition for tradition cable service. There are tons of additional apps to choose from, including plenty of free content.
Why Would BT Want Me to Cut The Cord?
Quite simply, internet is our bread and butter. The telecom industry has recently seen significant upgrades to the content available via video streaming services. As a result, cord-cutters are permanently changing the way Americans receive in-home entertainment. Our 100% fiber optic broadband allows us to offer a superior product for internet-based entertainment platforms. In most instances, our customers see significant savings and we get to showcase what we do best! Just one of the many ways Burlington Telecom is working to change consumer perception of what an internet service provider can and should be.
More Info

rmation

For more info or to schedule a 1-on-1 cord cutting session call 802.540.0007 or email us at [email protected]

Upcoming Cord Cutting Clinics: "What is Cord Cutting"

January 10, 17, 24, 31

12pm @ NNE Office

1127 North Ave. 
** While we love all cord cutting options, in an effort to provide the best information we only provide education and assistance for the following devices and services.  Burlington Telecom is not endorsed by, directly affiliated with, or sponsored by any of the following.**
Devices:
Apple TV
Roku
Amazon Fire
Services / Apps:
YouTube TV
DirecTV Now
Hulu
Netflix
Amazon Prime