Get Your Live TV
Save Money.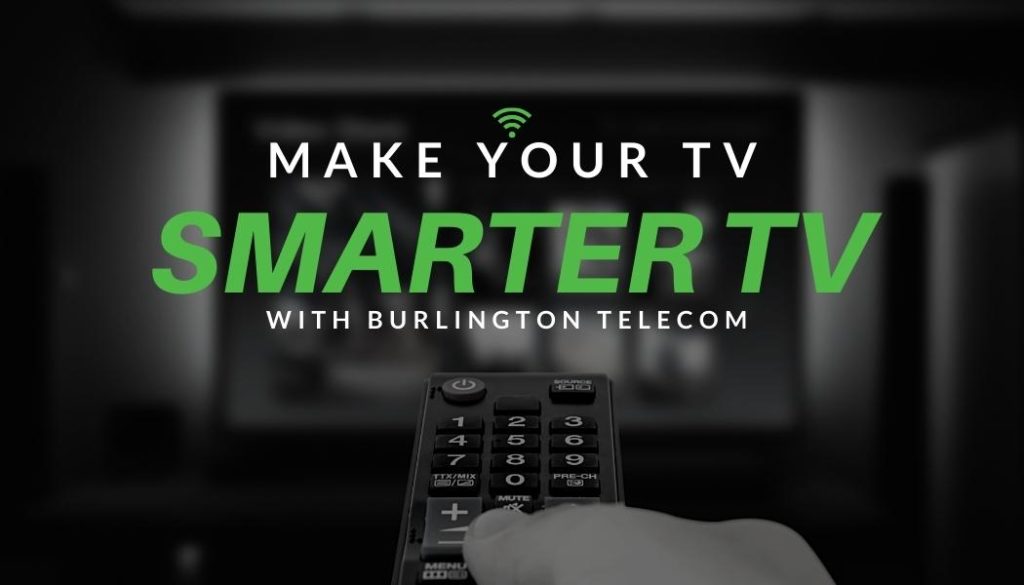 Smarter TV is a smarter way to watch your favorite TV shows and movies (including live TV) by switching from traditional cable to streaming and saving money. You are able to take control of the content you want to watch, on the devices you want to use, without being tied down to an outdated cable package. You decide what you want while having Burlington Telecom's fast fiber internet. 
An Internet Connection
The first thing is an internet connection and Burlington Telecom's blazing fast fiber internet can get you connected for an optimal streaming experience. We offer multiple speed options for all budgets. For example, if you stream often, have multiple devices and internet users in your home, a Gig would give you the best streaming experience. Our team is happy to help you choose the right speed for you!
Streaming Device
Next, you will need a dedicated streaming device like a Roku, Amazon Fire stick, an Apple TV, etc. However, you may already have technology that is capable of streaming, like a smart tv. Not to mention that you can stream on your computer and Smartphone!
Streaming Services
Next, it's time to choose your services. The channels you want may be available on multiple services, allowing you to make the choice you want with a subscription you choose. Some services come with live tv on top of a library of shows and movies you can watch anytime, while others have sports packages so you never miss a game, and some even include local channel broadcasts so you can stay in the know with local news and events.
The Channels, Movies & Shows You Watch,
Live TV:
Local News Channels
ESPN
TBS
TLC
And More!


Shows & Movies:
Riverdale
Nancy Drew
Moana
Trolls
Superstore
SNL
And More!
 Live TV:
Local News Channels
E!
Oxygen
Animal Planet
And more!

 Shows & Movies:
Letterkenny
The Handmaid's Tale
The Hunger Games
Deadpool
The Holiday
Shrek
And more!
Ready To Switch To Smarter TV? Send Us A Message!