The holiday season is here
And we're shopping online, wrapping up December remote work, streaming Christmas movies, music and not to mention video calling with family and friends. We're ready to enjoy time with our loved ones, whether its nearby or through Wi-Fi. We seek to be connected…and stay connected! With all of this comes things like network congestion which can slowdown speeds and create frustration with communication (not to mention putting a damper on trying out new tech gifts!). So, how can you ensure your connection is ready for the holiday season?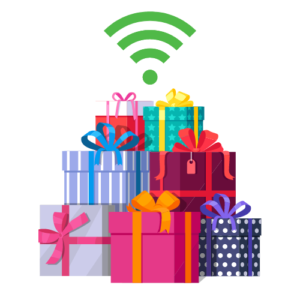 Think "Fiber"
Switching to fiber-optic internet means FTTH, which means fiber-to-the-home. You are not sharing your connection with other homes and are avoiding any bottlenecking that would otherwise arise with a copper cable connection. You can get symmetrical gigabit fiber-internet that will upload and download at the same fast speed. That means faster video game downloads, quicker photo uploads and more so you can spend less time waiting. You can even stream 4K/HD videos and hours of Christmas music with ease!
Speed Check
Making sure you have the right fiber Internet speed for your home is essential. There is a simple calculation you can do to estimate your speed and bandwidth needs. Simply divide the speed of the plan you are considering by the number of devices that will access your home network. Your goal is for the result to be between 25 and 40 Mbps. However, when you choose Burlington Telecom as your local internet service provider, we can work with you to determine the right plan for you.
Placement Matters
The best place for your router is a central location with as few obstacles as possible between the modem and your connected devices. It's also helpful to place your router high off the floor, and away from metal objects, appliances like microwaves, and other electronic devices like cordless phones that can interfere with your WiFi signal.
Restart & Update
Restart your router regularly! A simple reboot can solve many WiFi problems and increase speeds. Your router's manual may explain how to program it to restart on a schedule, or simply use an outlet timer to turn your router off at a convenient time. You can also upgrade your hardware! Today's all-in-one dual band routers deliver much faster WiFi speeds to more devices, like our Smart WiFi device! 
Have a happy (& connected) holiday season!