FOR IMMEDIATE RELEASE 
February 11th, 2022                                                        

BT PR Contact: Jorie Spaulding, Marketing Manager
P: 802-540-0929
E: marketing@burlingtontelecom.com
BURLINGTON TELECOM TO OPEN NEW STOREFRONT IN ESSEX JUNCTION'S POST OFFICE SQUARE
Essex Junction, VT- Burlington Telecom recently expanded services into Essex Junction and as a result, we are opening an additional storefront in the Post Office Square; 62 Pearl Street, Essex Junction. The official opening date is February 14th, 2022. The grand opening event will be held on February 24th, see below for details.
This new location will continue to provide BT's exceptional in-house customer service and technical support. It will also offer Smarter TV presentations and demonstrations to help customers cut-the-cord and save money. Smarter TV is an initiative Burlington Telecom created to help consumers confidently switch to streaming over traditional cable. BT will provide demonstrations of the latest and greatest in over-the-top streaming technology to help customers discover which combination of devices and services will work best for their viewing habits and budget. You can learn more about BT's Smarter TV initiative here: Learn More
"Burlington Telecom has been hard at work expanding our services into surrounding communities.  We are not only proud but excited to bring our superior service and network to Essex and look forward to getting to know your faces." – Courtenay Wells, Customer Service Manager
If interested in services, please call 802-540-0007 or e-mail customerservice@burlingtontelecom.com to see if we can serve your address and visit www.burlingtontelecom.com to see our internet offerings.


Essex Junction Storefront Information-

Address: 62 Pearl St, Essex Junction, VT 05452
Hours of Operation: Mon-Fri: 8AM-5PM, Closed Saturday & Sunday
Storefront Services: Customer service & help desk on-site. Sign up for services, pay your bill (no cash inside or in outdoor dropbox), learn about Smarter TV, attend periodic events & presentations.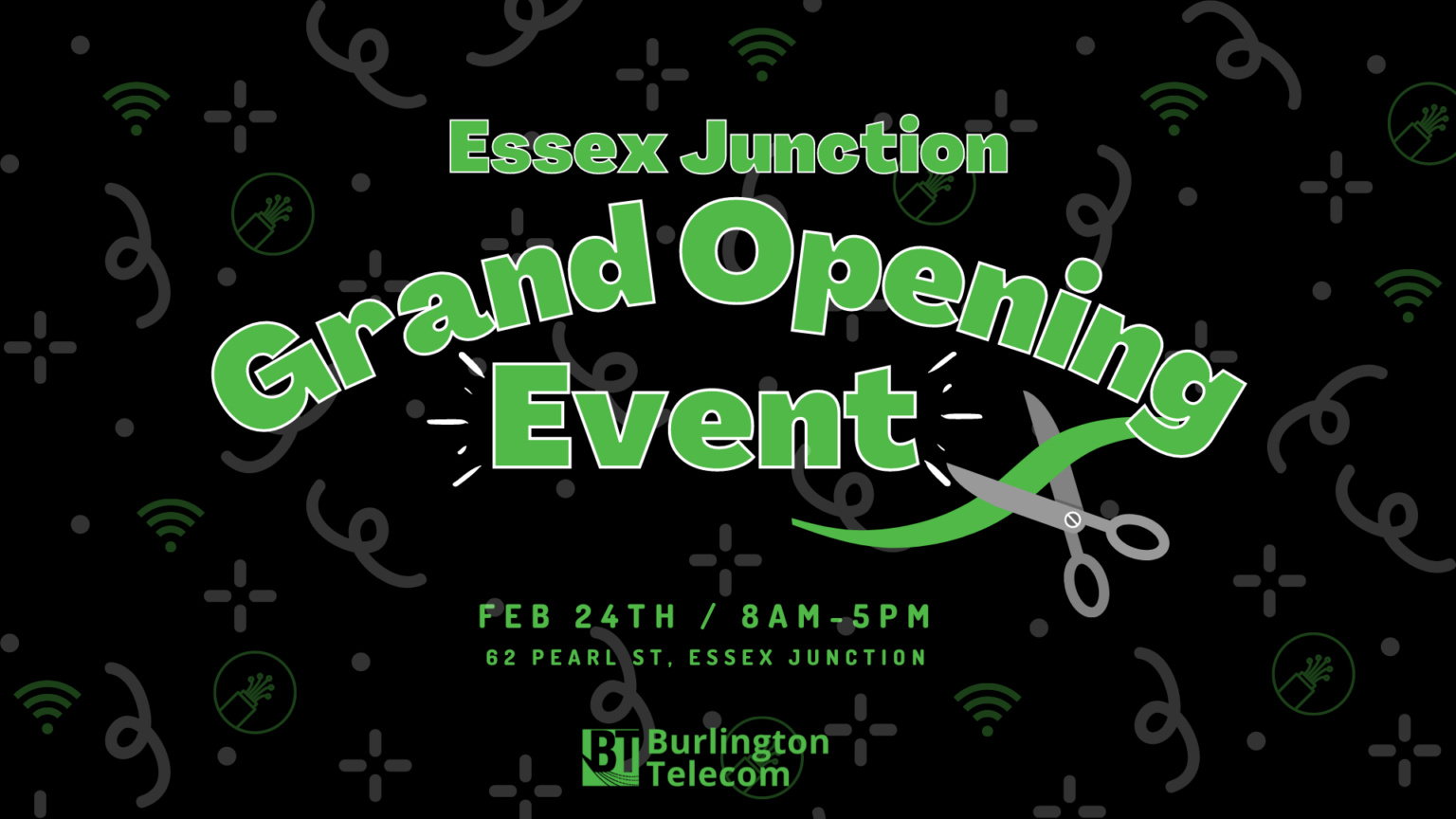 ESSEX JUNCTION LOCATION GRAND OPENING EVENT
 BT Will Be Hosting a Grand Opening Event on Thursday, February 24th 2022 From 8am-5pm at Our Essex Junction Storefront, Located at 62 Pearl St.
There will be free food, drinks and BT swag items. You can enter into our grand prize raffle for the chance to win a Smart TV and other surprise giveaways throughout the day! Attend a Smarter TV presentation to learn about cutting-the-cord and join our ribbon-cutting ceremony.