CITY LIGHTS WINOOSKI TO BE FIRST GIGABIT BUILDING IN VT
Burlington Telecom's Gigabit Internet to be included as amenity in 27 apartment units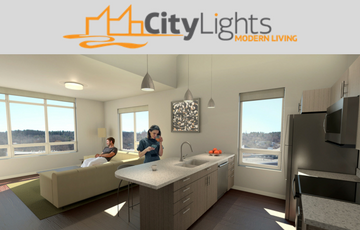 Developers Nathan and Jacqueline Dagesse have a passion for the social, environmental and technical aspects of their redevelopment projects. When they set out to design City Lights, Downtown Winooski's newest apartment building, they included modern amenities such as energy efficiency, sound proofing, secure parking/building access, a fitness center, air-conditioning, and a roof top terrace. Their in-fill style of development works to promote sustainability and this ethos extends to all their construction decisions, including the type of internet connection they offer their tenants. A City Lights lease now includes a Burlington Telecom symmetrical, gigabit internet connection in every unit.
"Fiber optic networks are fast becoming the gold standard both at work and at home, so it was important for us to have Burlington Telecom for this project." says Jacqueline Dagesse, "Including Gig internet as an amenity offers our tenants instant access to the fastest, most reliable connectivity available without the hassles of signing up for service, waiting for an installer or committing to long-term contracts."
Scheduled to open in the summer of 2017, City Lights sets a high bar for all future developments in Chittenden County. Along with Gigabit access in every unit, Burlington Telecom is also providing a wifi hotspot in the fitness center.
"Gigabit internet is no longer a luxury amenity. It's as essential a utility as electricity or water. The Greater Burlington area has earned a reputation as an innovative tech hub. 21st Century workers are tech-savvy professionals, consultants and telecommuters. Forward thinking developers, like City Lights, know that ultra-high speed broadband is an important component in the 'quality of life' that attracts new-comers to the area." – Stephen Barraclough, Burlington Telecom General Manager
****
City Lights incorporates gothic architectural features in its modern roof design which give 16-foot cathedral ceilings and additional light into the penthouse units. Living in downtown Winooski allows you walkable access to restaurants, shops, events and many conveniences of city life! To learn more about the City Lights Winooski development, visit http://www.citylightswinooski.com/ or visit them on Instagram To schedule a tour, call 802-497-3653.
Abbie Tykocki
Burlington Telecom
802-540-0948
atykocki@burlingtontelecom.com
February 15, 2017